Sound financial planning is the key to building a sustainable business and lasts well into the future. This includes overseeing initial costs, finding potential profitability, anticipated costs, and various other factors. Financial planning software allows business owners to streamline their financial planning and management operations from one place. These solutions allow you to manage your finances without the need for hiring expensive financial managers.
However, picking the right financial planning software that fits your needs can be challenging. Here are the ten best financial planning tools for startups to help you make the best choice. 
1. Sage Intacct
Sage Intacct is a financial planning software solution mainly used by CFOs to access financial reports across organizational departments and business entities. It's an integrated financial management system best suited for startups and SMBs that want to strengthen their core financials and automate critical financial processes.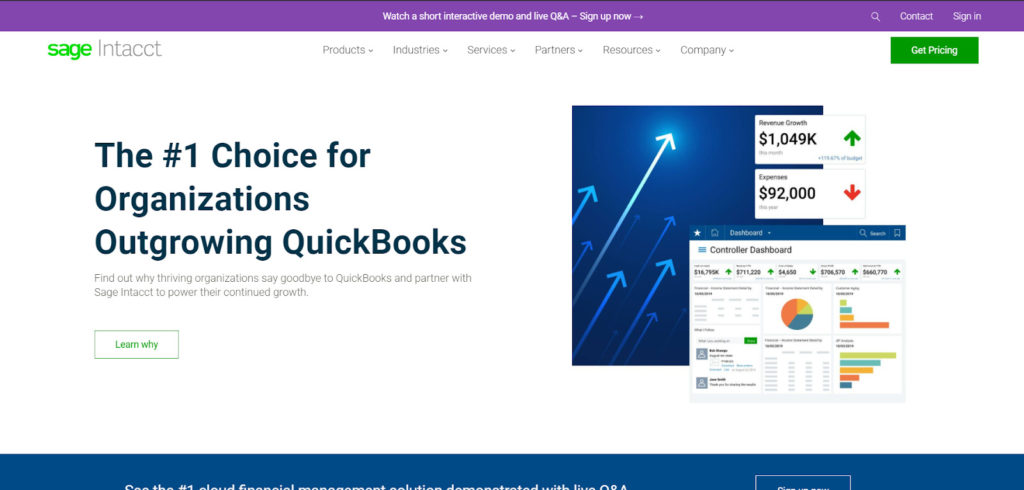 Key Features:
General ledger and dynamic allocations
Contract and subscription billing
Accounts payable and receivable
Contract revenue management and sales and use tax
Global and multi-entity consolidations
Pros:
Best-in-class accounting features
Cloud support makes it ideal for on-field workers
Caters to industry-specific needs
Customizable reports for better decision-making
Cons
Can be complex to use
Invoicing needs require individual approval
Pricing
The vendor hasn't provided pricing details. Visit the vendor's website and request pricing to get pricing details. 
2. CallHippo
CallHippo is a modern-day virtual phone number solution that allows you to connect with customers and streamline your communications. Financial advisors and planners need to ensure seamless communication with their clients. With CallHippo, you can enable effective communication with not only your customers but also team members. The software also comes with robust reporting and analytics features to help you make informed financial decisions.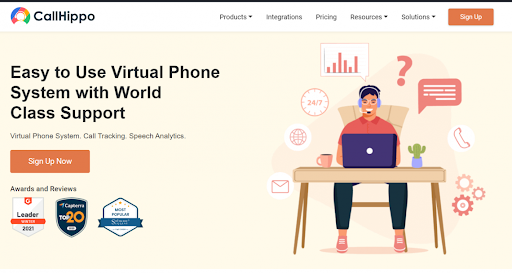 Key Features:
Remote financial planning and management
IVR systems
Automatic call recording and forwarding
Contact management and sharing
Reporting and analytics
Pros:
Easy to use, ideal for startups
World-class support and service
Robust reporting and analytics features
Mobile apps for remote financial planning
Cons:
Lacks some financial management features
Pricing: 
CallHippo comes in three plans, priced at $15, $30, and $45 per month, per user. There's also an enterprise plan that allows you to build a customized solution as per your requirements. 
3. Synder
Synder is a financial planning software solution that helps startups and small businesses record and reconciles financial data from platforms like PayPal, Shopify, and Stripe. It's best suited for eCommerce companies that use multiple payment gateways to process payments. Synder provides detailed insights into sales, inventory, taxes, and more, thereby allowing you to streamline your financial planning operations from one place.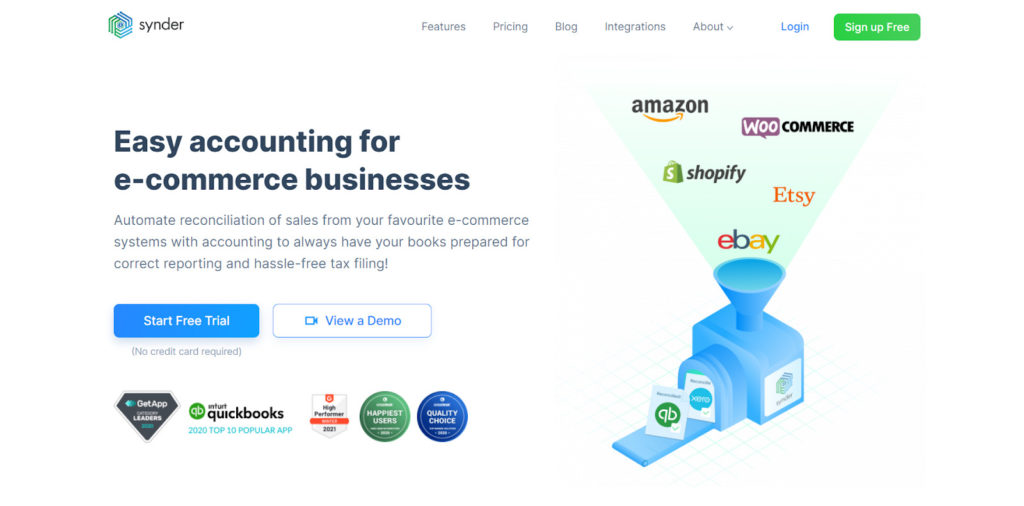 Key Features:
Mobile payments and digital wallet integration
Reporting and analytics
Omnichannel, eCommerce integration, and POS integration
Online payment portal with multi-currency support
Credit card processing
Pros:
Best-in-class customer support
Easy-to-use interface
Real-time sync and integration with tools like QuickBooks and Xero
Effortless onboarding process
Cons:
Pricing:
Synder has three plans: Small – $15.99 per month, Medium – $31.99 per month, and Large – $115.99 per month. 
4. NaviPlan
NaviPlan is one of the leading financial planning software systems used by everyone from startups to established organizations. It's best-suited for client-focused organizations that need to cater to the needs of multiple clients. With NaviPlan, you can perform a comprehensive range of financial planning processes, from goal-based assessments to cash flow planning.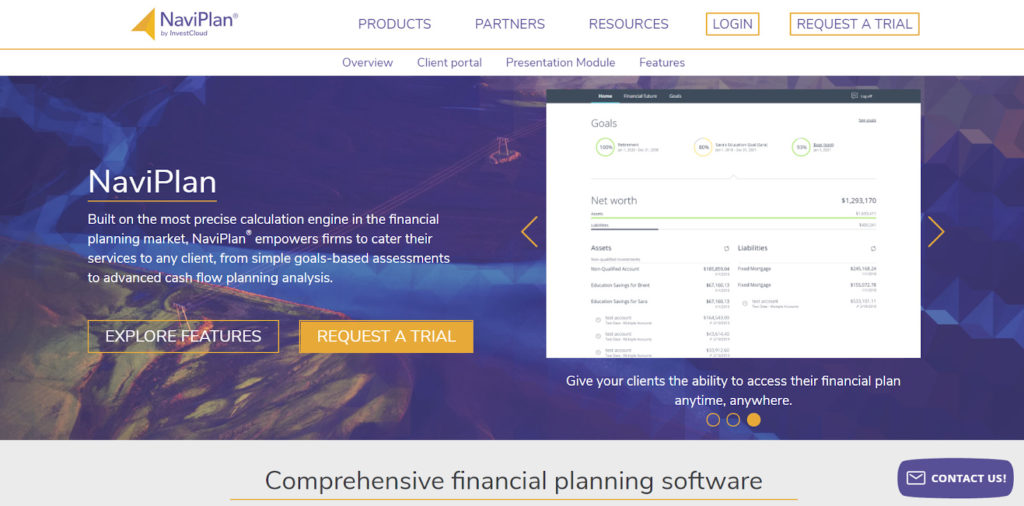 Key Features:
Advanced tax planning
Business and cash flow planning
Collaborative and goal-based planning
Retirement Income Modeling
Account aggregation
Advanced tax planning
Pros:
Detailed reports for accurate decision-making
Ability to easily enter all types of data
Itemized cash flow to double-check your work
Seamless modeling capabilities 
Cons:
Duplication and output errors
Outdated software with some bugs and issues
Pricing:
The vendor has not disclosed the pricing. Some resources suggest that NaviPlan is priced at $2,415 per year for single advisor shops, and adding the client portal and aggregation increases the price to $3,857 per year. 
5. OnTrajectory
OnTrajectory is a financial planning software provider that helps you manage all your finances from one place. It comes with advanced financial planning features, the most popular of which is the forecasting feature. You can input a client's income and expense data and the software can predict where they'll be in the upcoming 15, 20, or 30 years.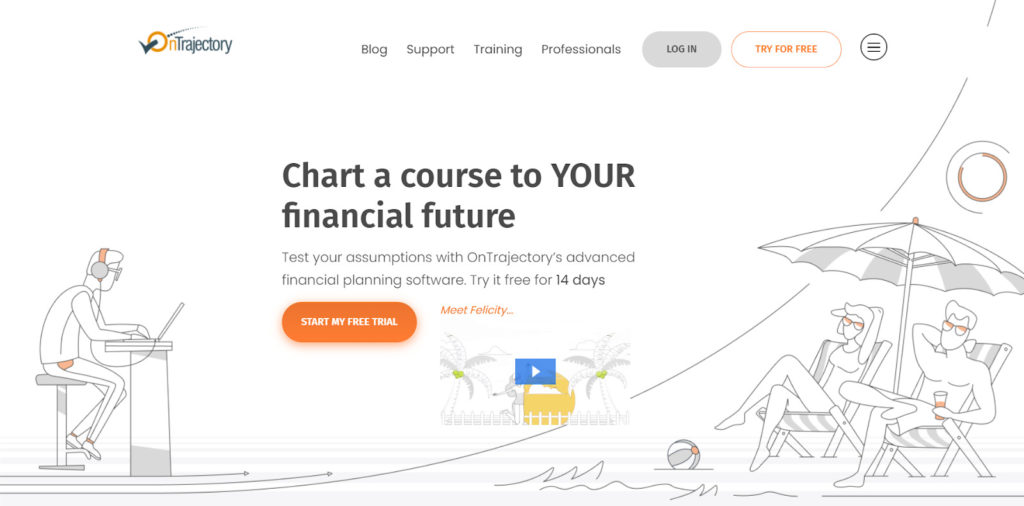 Key Features:
Professional-grade financial projections
Customize financial goals based on variables
Monitor investments and expenses
Create multiple scenarios
Track plan progress
Pros:
Various tools to track, plan, and manage finances
Use without providing private account details
Create and track hypothetical scenarios
Get complete flexibility and control
Cons: 
No money management features
Lacks automation features
Pricing: 
OnTrajectory has plans starting at $5 per month if paid yearly ($60) or $9 per month if paid monthly. 
6. CAFLOU
CAFLOU is a digital cash flow management system that helps you better track, manage, and organize your business's finances and cash flow. It enables you to keep track of cash flows and income and expenses by suppliers and customers. Caflou lets you streamline your company's finances in an easy and effortless way.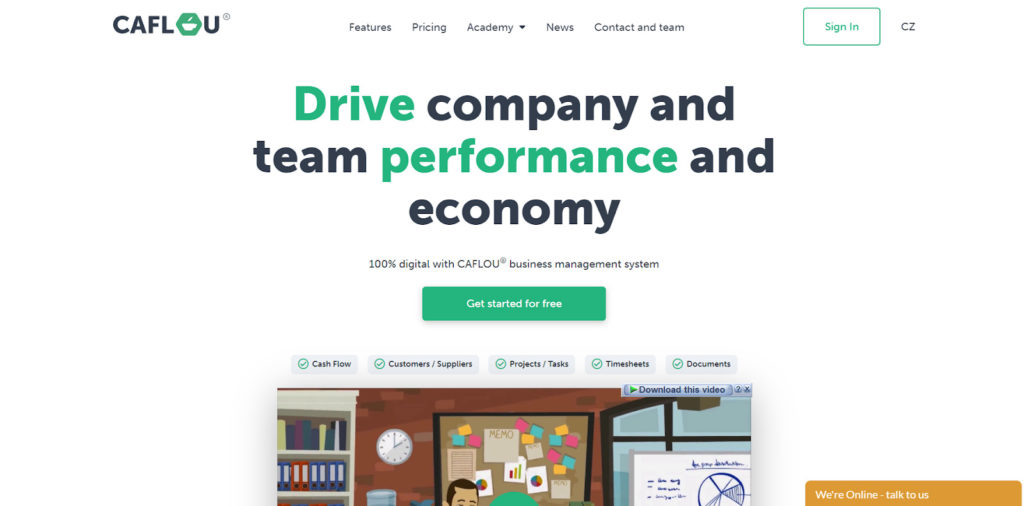 Key Features:
Track the revenue generated by each employee
Manage your projects and orders
Streamline team communication and collaboration
Keep track of sales activities
Automate complex financial processes
Pros:
Simple and comprehensive solution; easy to deploy and use
Effective reporting and analytics tools
Effortless task tracking and employee management
Generate invoices easily
Cons:
Superadmins can't change their username
Can be overwhelming to use at the beginning
Pricing:
Caflou has three plans: Carp – €10 per month, per user; Dolphin – €13 per month, per user; and Turtle – pricing available on request.
7. Kashoo
Kashoo is an accounting application and financial planning software that enables startups and new businesses to automate their bookkeeping and financial planning tasks. It comes with machine learning capabilities that provide real-time, accurate reports by reconciling bank and credit card transactions.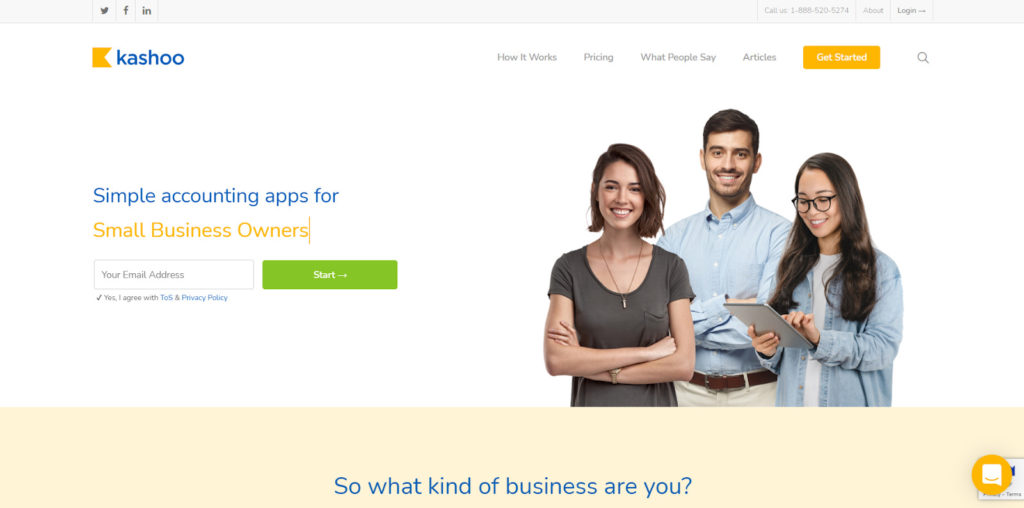 Key Features:
Support for multiple currencies
Full bank reconciliation 
Track income and expenses
Real-time view of finances
Create and send invoices and accept payments
Pros:
Bank syncing for seamless accounting and bookkeeping
Easy to understand, set up, and use
Best-in-class synchronization functionality
Supports automatic reconciliation features
Cons:
Some issues with connecting accounts and accessing transactions
Lacks accounts payable and receivables 
Pricing:
Kashoo has three plans, priced at $0, $20, and $30 per month. 
8. Mint
Mint is a financial planning software solution that allows business owners to create a budget, manage bills, track investments, and stay on top of upcoming payments. Mint is entirely free to use, so business owners who're looking to limit their expenses can use Mint to streamline their financial planning requirements. The app is easy to use, making it ideal for beginners who have little or no experience in financial planning.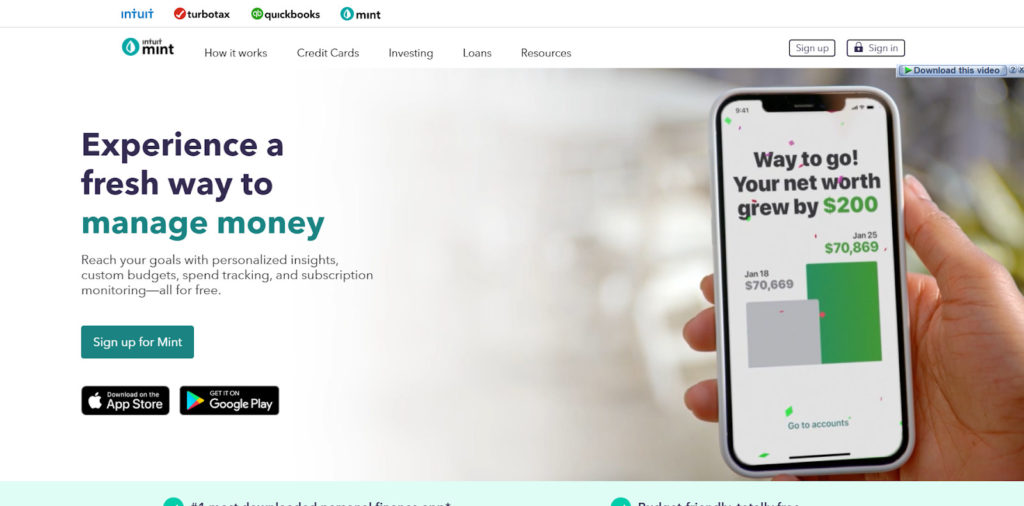 Key Features:
Seamless budget planning without spreadsheets
Credit monitoring
Track your expenses and reduce unnecessary costs
Safely manage all finances from one place
Mobile app support
Pros:
Completely free to use
Mobile-friendly and easy to use
Cloud-based; access from any device
Robust security features
Cons:
Mainly caters to individuals and not businesses
Lacks several financial planning features
Pricing:
Mint is completely free to use. 
9. idu-Concept
idu-Concept is a comprehensive financial planning system that comes with budgeting, reporting, and forecasting features. It's ideal for startups and SMBs across various industries, mainly financial, education, and manufacturing. Apart from finance planning, idu-Concept allows you to track and manage your assets, equipment, and more. You can pay for idu-Concept as a monthly subscription or purchase a lifetime license.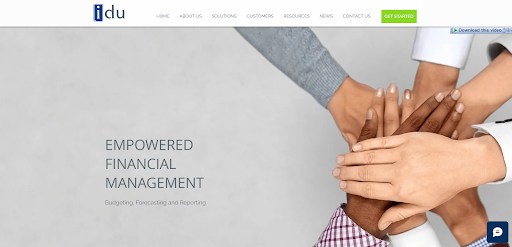 Key Features:
Budgeting and forecasting
Reporting templates
Version control and real-time data updates
Data import and budget hierarchies
Forecasting based on historical data
Pros:
Can modify the layout
Easy to use
World-class and user-centric customer support
Hassle-free budget process
Cons:
Screen layout slightly outdated
User access needs to be updated in every Fiscal set
Pricing:
The vendor hasn't disclosed the price. However, according to Capterra, idu-Concept pricing starts at $50 per feature per month. 
10. Quicken
Quicken is money management and financial planning software ideal for startups and solo business owners. It's best suited for real estate agents and property management companies looking for a centralized system to track and manage income and expenses. It also enables you to oversee tax planning and tenant rent payments.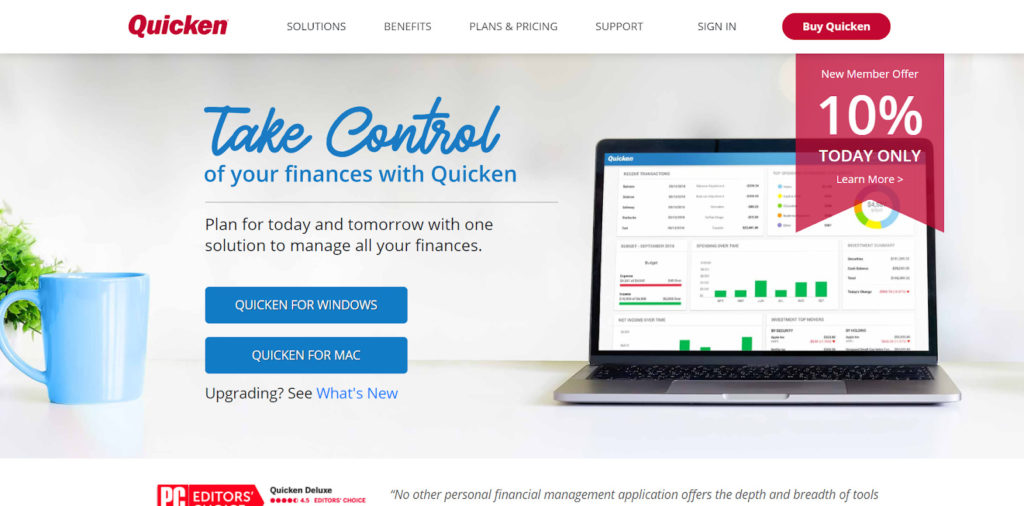 Key Features:
Create and manage budgets
View and pay bills
Track personal and business investments
Property and tenant management
Recurring/subscription billing
Pros:
A versatile solution for all types of financial planning requirements
Cloud capabilities enable seamless backup
Add multiple businesses at once
Impressive customer service
Cons:
No way to recover lost passwords
Not the easiest to use
Pricing
Quicken has four plans, priced at $45.99, $51.99, $77.99, and $103.99 per year. 
Final Thoughts
Selecting the right financial planning software is the first step in streamlining your business's financial planning procedures. Please note that every software solution is unique and has its own set of features, pros, and cons. Therefore, it's crucial to determine your business goals and find a solution that aligns with your objectives.
Suggested:
How is Automation Changing Financial Services?