If you consider Enterprise Agility as a modern-day steam engine, then JIRA Align is one of the pistons powering enough pressure into the engine, to drive the required business outcomes in the market. JIRA Align helps unlock the agility of an enterprise by connecting the dots between business strategy and technical execution. An integrated agile platform, JIRA Align is built on a lean foundation with agile features powering teams from the ground up.  
In today's article, we will be exploring what makes JIRA Align one of the top leaders in its space today.  
What is Jira Align?

 

 
Jira Align is, simply stated, JIRA software on steroids! It can be called Atlassian's one–stop solution for organizations looking to onboard the Enterprise Agility train, running full steam. It is an immensely useful tool that can be adopted for planning agile initiatives at an Enterprise level.  
While JIRA software which is more commonly in use, is a tool that benefits us to be Agile, its functions are more suitable at a team level; and get a bit complicated if the functions had to scale up across multiple teams. JIRA Align helps sort this out by aggregating team level data across the business function and aligning every team to the overall vision. It has the capability to visualize the data across your enterprise depending on which role you are playing and how you would like to view the data.  
For example, if you were a Product Owner and would like to track progress on the roadmap being delivered by 10 different teams, JIRA Align is for you!   
"Our mission at Jira Align is to Simplify Software at Scale by bringing your business and your software development organization together in one intuitive platform." – Atlassian, JIRA Align initiative.  
What is Enterprise Agility and why is it so important to my 

organization?

 
For many Enterprises Agile / Agility, is just a mere buzzword; one amongst the many that are out there in the market. However, for more serious eyes it represents an opportunity, a stepping stone to be prepared for 'Success'. Enterprise agility is a state whereby an organization is able to adapt when the circumstances in which it operates change rapidly. The feedback–based environment, with a level playing field, allows the enterprise to respond to changes in a timely manner, in the true Agile sense.  
Why Jira 

Align?

 

 
If your organization is looking for a SWIFT journey towards Enterprise Agility then JIRA Align is the tool you need to adopt. It helps the executives and leadership team to track and make sure that their trams and business function are working towards and delivering the same enterprise value. This is a fascinating tool that brings together Enterprise Strategy, Product Management and Execution. It has managed to add various levels in it like Themes, Initiative, Solution, Program, Team etc., and clearly connects how they all flow into each other to achieve Enterprise Agility. 
JIRA Align was named a leader in the latest assessment of Enterprise agile planning tools by Gartner Magic Quadrant (2021). It helps teams extend their planning and co-ordination at various levels within the organization.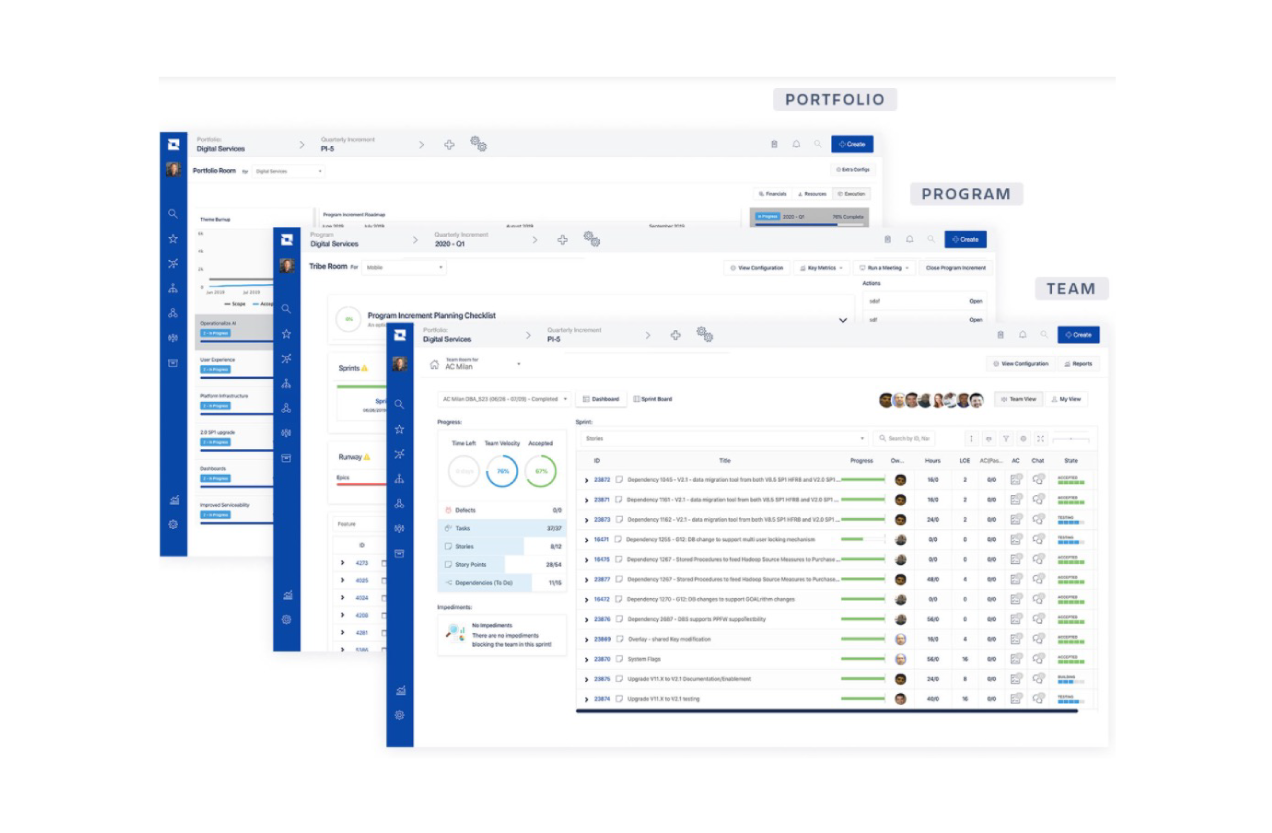 Making work progress visible across your Enterprise— and that too in real time — is one of the key features of Jira Align. By creating an integrated view, it helps break down company silos and bridge the gap between technology and business teams. It provides that single source of truth to the leaders and executives of how their product is emerging and when it will be ready for launch.
By looking at the bird's eye view of the enterprise, JIRA Align helps in optimizing the value streams and thereby uncovering opportunities for innovative ideas to flow.  
It allows flexibility for multiple teams to thrive, co-ordinate and operate out of a single Program board while tracking their collective progress towards the next quarterly increment. This is irrespective of the framework or technology the teams operate in. JIRA Align also commits to the highest level of security bolstering security safeguards and, most importantly, forging the trust between operations and products. What an absolute win-win, isn't it? 
Transformation via connected 

teams:

 
Transformation starts when the teams are connected and can together imagine the greater vision. JIRA Align helps in getting real time visibility of component dependencies with the other teams and helps planning to be that much simpler. The feature board present in this tool is completely auto dynamic and creates a huge difference in the transformation for the portfolio and enterprise layers. 
Lack of work alignment may result in what Atlassian calls as 'Orphaned Features'. These features have somehow lost the focus that was originally envisaged and have been missed out in the delivery phases. Such features are a risk to cost and may emerge very late in the product launch, thereby becoming a budget management nightmare. At JIRA Align, an orphaned feature dashboard is offered which will help overcome this issue.
How does Jira Align support and benefit SAFe in my organization
Jira Align surprisingly blends in very well with SAFe. It works well with small organizations with Essential SAFe, right up to large enterprises looking to improve Business Agility with Full SAFe. It also benefits each and every role within the organization; be it a Scrum Master, a Release Train Engineer or a Portfolio Manager.  Some of the points that stand out are as below:  
In the current situation where remote PI planning is the need of the hour, the lack of an appropriate tool to help support this was a big problem statement. JIRA Align helps close this gap by providing features which carry out critical activities integral to a successful PI planning. It helps in both preparing and successfully executing the PI planning activity. It helps with consolidated feature estimation aligning & visualizing business values across the teams, tracks dependencies in a dedicated manner using dependency maps, risk highlighting etc. The program predictability report at the end of the activity allows the POs to visualize how successful the PI will be. 
The tool also allows teams to build a common pipeline that can be utilized for teams running on the same tech stack, thereby automating the program components, helping reduce dependencies and improving time to market. It also helps with the overall DevOps management by allowing to build a Kanban board to visualize the DevOps pipeline in the first instance.  
Training and benchmarking 

progress:

 
SPCs and Agile coaches can utilize the assessments feature built into JIRA Align to make sure every team member has a common understanding of the vision and helps produce quantified assessments to help and guide with improvement areas.  
Role based metrics and 

dashboard:

 
If you are a Release Train Engineer and would like to understand how your teams are progressing against the PI, how would you do it currently? Probably visit each team's dashboard individually? However, this may not give the full picture. Even if all teams report good progress against their own dashboard, it does not mean that they have sorted out dependencies and can integrate after the sprint. That's where JIRA Align comes in handy. It gives the RTE a dedicated dashboard providing a consolidated multi-tier view of the progress across teams. For example, a burn down chart across teams.  
The Portfolio Room in JIRA Align helps with allocating lean budgets to the teams associated with the PI. It also helps with financial reporting especially if you are keen on understanding how the spend is spread across the teams.  
Accelerating Value 

delivery:

 
Most importantly, JIRA Align helps with direct feedback with the customer using the Ideation Zone, thereby allowing a continuous improvement mindset to flourish and accelerating value delivery. 
What other frameworks does Jira Align support?
As mentioned earlier, JIRA Align offers a very flexible support for various agile frameworks. Atlassian claims that JIRA Align is the one and only platform that allows the organization to adopt any scaled framework, be it a standard one or a hybrid one. Frameworks that are supported include the following,  
SAFe

 

LeSS

 

DaD

 

Scrum at Scale

 

Spotify

 
These super popular frameworks can easily align with the JIRA Align tool. However, the beauty is that it not only supports these frameworks, it also allows the organization to mix and match a hybrid model as they evolve and transform in the Enterprise Agile journey.
What type of Industries can Benefit from Jira Align?
JIRA Align has a varied set of customers across multiple industries. Most importantly JIRA Align has its Software as a Service in very highly reputed and regulated industries like Banking, Financials and Insurance. Atlassian has worked with some of the biggest enterprises around the world to address their scaling concerns and deploy Jira Align in the cloud. Regardless of the industry your organization operates in, and as long as it involves rapid software development, required at a scaled level and willing to move to a cloud environment, JIRA Align will suit you just as well!  
How does Jira Align compare to other platforms?
According to Gartner, Azure Boards, GitHub, Rally, Jile etc are some of the main competitors and alternatives that could be considered. However, most of the reviewers on Gartner have given JIRA Align a higher rating due to the following reasons.  
Better at service and support

 

Easier to integrate and deploy

Better evaluation and contracting

 
Also, as highlighted earlier, the Gartner Magic Quadrant for Enterprise Agile Planning Tools report for 2021 has mentioned that JIRA Align has a competitive edge over other alternatives. Key strengths highlighted in the report are as below,  
Atlassian's Jira Align provides end-to-end visibility, traceability and insight into the flow of all product delivery processes, tying that all back through the value stream for efficiency.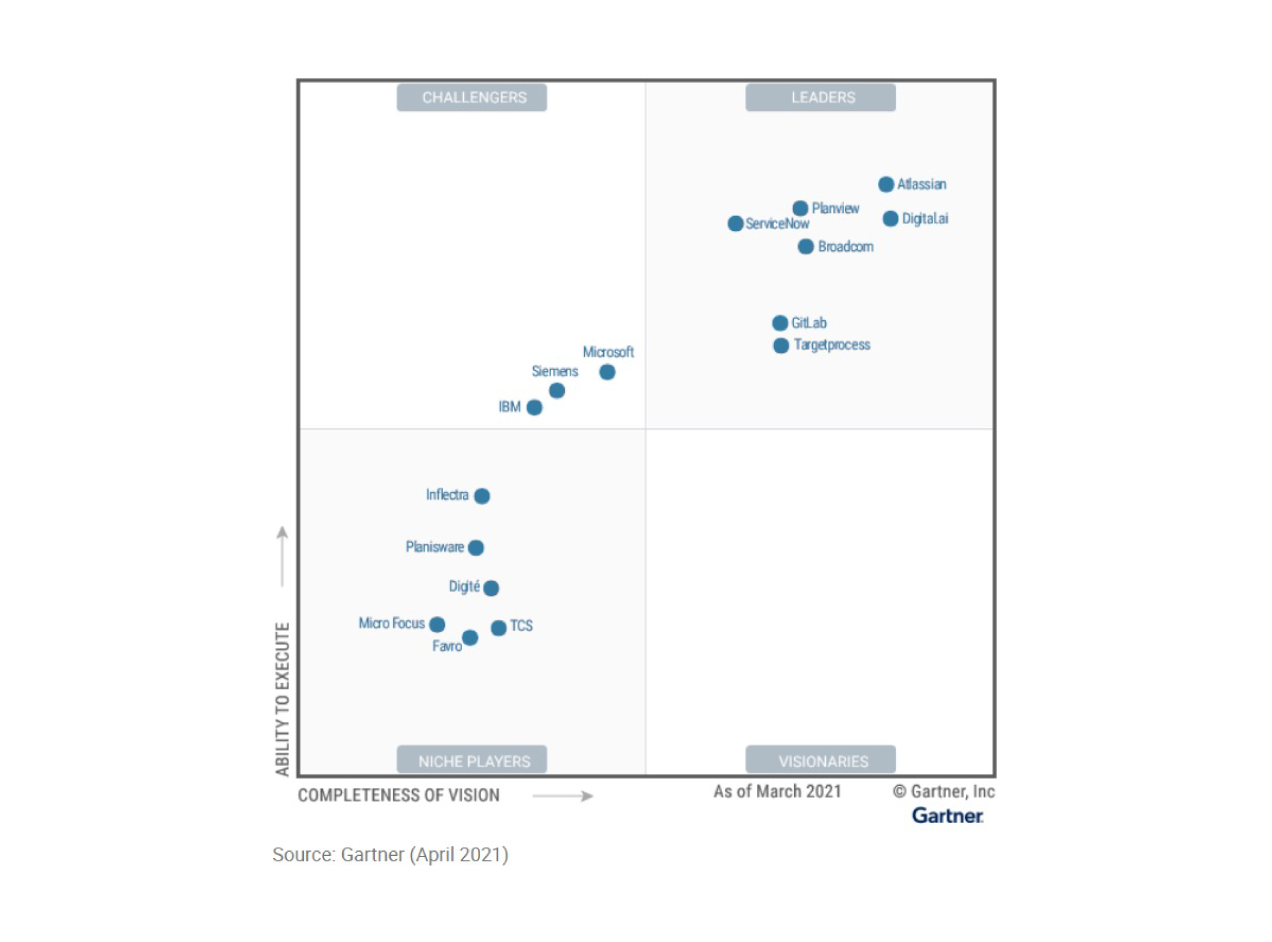 How long does it take to implement Jira Align?
Gartner predicts that Jira Align has a very modern and intuitive user interface (UI), but at the same time it is really complex and vast, and it may take some time to optimize the Jira Align implementation in an organization. Atlassian recommends that Jira Align customers should purchase configuration and training services to get them a solid start with JIRA Align. While Jira Align has primarily been sold as a cloud-based solution, there is also an on-premises version for customers with regulatory requirements.  
From a timeline perspective, getting accustomed to JIRA Align and getting the team trained on its use will take an organization anywhere from 2-3 months, depending upon the number of employees and organization size.
How do I learn if Jira Align is right for my organization?
Atlassian recommends that enterprise organizations of over 1,000 people are generally the best fit for Jira Align. You may also be a good fit for Jira Align if you: 
Are working to align the work of teams, programs, and portfolios

 

Are working with leadership to standardize tooling and reporting across many agile teams (50+)

 

Would like to visualize and align the work of multiple programs or ARTs across your organization

 

Are connecting the work of teams to strategy and funding at the portfolio level

 

Are using a scaled agile framework or are creating your own to enable an agile/digital transformation

 
Conclusion:

 
Jira Align is one of the most widely used Enterprise Agile planning tools, thanks to the wide variety of features that it has to offer. It has a strong market understanding with the recognition of the need for business agility, supporting hybrid models of scaling and an enterprise grade security and data governance. As a leader in the Gartner's Magic quadrant, JIRA Align is surely a tool not to be missed if you are moving towards Enterprise Agility.